2022 Food and Drink Forecast: What You'll Be Eating and Drinking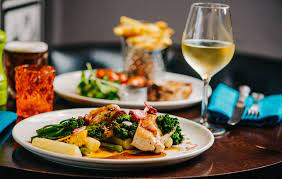 What will we be eating and drinking in 2022? That's a question that has been on many people's minds lately. With the rapid advancement of technology, it's hard to predict what the world will be like even just a few years from now. But that doesn't stop us from trying! In this blog post, we'll take a look at some of the most popular food and drink trends for 2022. So sit back, relax, and get ready to explore the future of cuisine!
One trend that is predicted to continue into 2022 is the rise of plant-based diets. More and more people are choosing to eat less meat and dairy, and instead opting for plant-based options. This trend is being driven by both health concerns and environmental considerations. With the world becoming increasingly health conscious, it's no surprise that plant-based diets will continue to grow in popularity.
Another big trend for 2022 is the rise of artisanal foods. As mass production continues to dominate the food industry, there is a growing demand for products that are made with care and attention to detail. Consumers are willing to pay premium prices for items that they know have been crafted with love. This trend is being driven by a desire for quality over quantity.
Finally, we can expect to see more innovative packaging and delivery methods in 2022. With the rise of online shopping, there is a growing need for companies to find ways to stand out from the competition. One way they are doing this is by investing in new and innovative packaging that catches the eye. We can also expect to see more companies offering home delivery, as this convenience becomes increasingly popular.
So there you have it! These are just some of the food and drink trends that we can expect to see in 2022.
What will we be eating and drinking in 2022? That's a question that has been on many people's minds lately. With the rapid advancement of technology, it's hard to predict what the world will be like even just a few years from now. But that doesn't stop us from trying! In this blog post, we'll…